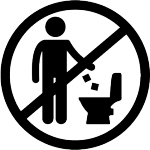 Auf jeder Kondomverpackung steht doch nun groß und deutlich drauf: "Gebrauchte Kondome nicht im Klo runterspülen" (in etlichen Variationen). Nerv, nerv – aber das steht da ja nicht ohne Grund. Gut, wer sich zuhause durch Hochfrequenzverkehr eine Rohrverstopfung einhandelt, muss halt mit dem Grinsen des Klempners selbst klarkommen, aber wer, sagen wir mal, ein finanzamtsbelästigungsfreies Bordellchen betreiben will, könnte bei so einer Panne Schwierigkeiten bekommen.
So geschehen just vor kurzem in Austin, Texas:
Hundreds of condoms that clogged a city sewer pipe led police to raid a massage parlor in Texas and arrest two people for prostitution and other crimes, police documents released on Tuesday showed.
Tja, das wurde dann teuer… und das Geschäft ist nun wohl geschlossen.
Merke: Erst die Entsorgungsprobleme klären, dann das Geld waschen 🙂
P.S. UPI hat auch was dazu:
Members of the Austin Police Department Human Trafficking Unit and members of the Criminal Conspiracy Unit executed a search warrant at the business March 22 and found Juan Wang, who owns the business with her husband, Joseph Emery, in a room with a nude man.
A second woman was found in a different room with another nude man, police said.