Johoho, und 'ne Buddel voll Rum. Bei manchen Nachrichten kann man sich nur noch in Alkohol ertränken, oder Tischplatten mit der Stirn malträtieren.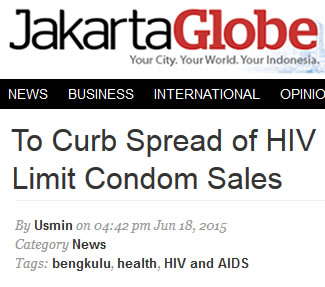 In der kleinen indonesischen Provinz Bengkulu, von der man sonst eigentlich nie irgendwas in westlichen Medien hört, gibt es Überlegungen, den Verkauf von Kondomen auf lizenzierte Abgabestellen zu begrenzen und den Personenkreis, der Kondome erwerben darf, gesetzlich zu beschränken.
Wie der Jakarta Globe kürzlich meldete, wird diese Initiative auch von den Gesundheitsbehörden der Provinz unterstützt:
The availability of such items leads to higher rates of pre- and extramarital sex. […] Extramarital sex and drug abuse are the main factors behind the spread of HIV […]. In order the halt the deadly virus, the Bengkulu legislative council (DPRD) is currently drafting a bill that would limit the sale of contraceptives to pharmacies and other stores licensed to sell medicines. […] The hope is that without access to such means, more young people would remain sexually abstinent until they get married. For the same reason, pharmacies will also be urged to be selective in selling contraceptives.
Versuche, den Verkauf von Kondomen zu beschränken (indem sie nur noch an Ehepaare ausgegeben werden sollen, oder nicht mehr als Beigaben zu Geschenkartikel verkauft werden sollen), gibt es im mehrheitlich muslimischen Indonesien schon länger. Dies wäre jedoch das erste Mal, dass eine solche Beschränkung in Gesetzesform verabschiedet würde…