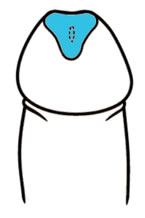 kann man jetzt seinem Penis zurufen, nichts geht mehr mit einfach so in der Gegend herumspritzen, oder in so 'ne Gummitüte, wo kommen wir dann da hin, das könnte doch jeder machen. Tadumm, tzzzzz…. Auftritt Jiftip – das Penis-Zuklebe-Pflaster:
Instead of ejaculating, you hold the penis party indoors. […] The ejaculate […] stays inside the urethra until you're ready to release it.
Der Hersteller findet es (natürlich) super, das klebrige Zeug kann ja mal in der Harnblase zwischengelagert werden statt es in ein Kondom zu füllen, und überhaupt gehts ja nur um Spaß, Spaß, Spaß. Oder eher doch nicht? Mein Lieblingshase, dessen Blogeintrag mich auf dieses Unkondom aufmerksam machte, ist jedenfalls nicht überzeugt und meint:
Außerhalb der Firma ist man natürlich wenig überzeugt von dem Produkt. Health.com fragte einen emeritierten Professor von der University of Washington, der so ziemlich genau das äußert, was der erste Gedanke sein soll: Das Zeug muss wie die Hölle kleben, wenn es tatsächlich dichthalten soll, aber wäre dann auch etwas, was man sich nicht gerade auf eine so empfindliche Stelle wie die Eichel pappen sollte, weil das Abziehen dann zur Folter wird.
Das erspart mir dann doch etliches an Schreiberei (und wer es gerne reißerischer hätte, liest einfach hier weiter), insbesondere, da es sich ja nun also eben nicht um eine "Kondom-Alternative" handelt und daher, wenn es ich genau betrachte, meiner Aufmerksamkeit eigentlich gar nicht würdig ist. :-/